September 2023 RDA Toolkit Release
A new release was posted to RDA Toolkit last week. The September 2023 release is a minor one in terms of changes to the English text (corrections to typos and formatting, changes for consistency, and fixes of broken links), but there  are two significant updates – the introduction of a new alternative Guidance menu and completion of the French language translation of official RDA.
The new "Orientation Guidance Menu" arranges topics in the Guidance menu thematically to improve user experience of the Toolkit, especially for new cataloguers and educational users. The thematic groups are "About RDA", "Implementations Considerations", and "Additional Guidelines". The default Guidance menu is the alphabetical one that has always been part of the official Toolkit. To switch over to the Orientation menu, log into the your profile, select Manage Views from the Views menu in the top toolbar. In the lower right corner of your view settings you can select the Orientation Guidance menu. This setting is available for both personal and institutional views.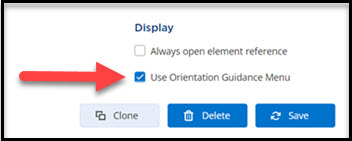 This release also sees the completion of the initial French translation of the official RDA Toolkit that begun a year ago. This release is based on the September 2022 version of the original English instructions and version 4.1.1 of the RDA Reference data published on GitHub. The publication of the first translated pages were posted in September, 2022, with subsequent updates in July 2023 and September 2023. 
The next release of RDA Toolkit will be in January 2024.