September 2020 Beta RDA Toolkit Release
A new release of the beta RDA Toolkit was published on September 16th. The release introduces new features and functionality as well as some relocating of RDA content. For a full explanation of notable changes to the RDA text see Notes on the September 16, 2020 RDA Toolkit Release.
The release includes the introduction of the first translations of RDA in the beta Toolkit. The translations are in Finnish and Norwegian and are accessible to all users. Both translations are partial but do include a full translation of the user interface and most of the RDA instructions. Users may set a language preference in their views. The default setting is the user's browser setting or, if that is not available, English. Users may make a quick language change by clicking on the language appearing in the top blue banner.  This will open a drop down menu (see image below) that allows users to change the "Site Language" (the language of the user interface) and the "RDA Language" (the language of the instructions).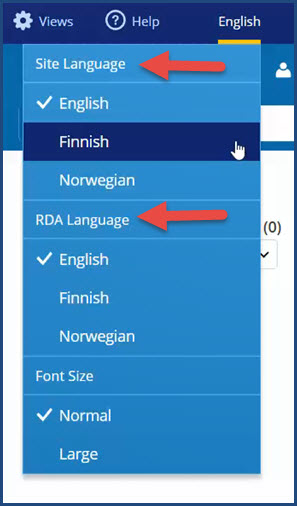 Another major change made in this release is the restructuring of the Resources tab. Several pages that had been part of this tab have been relocated in part or in whole. A new section entitled "Community Resources" has been added to the tab. For a full explanation of the restructured tab, see the release notes.  
Other changes include an improved display of globally shared user documents, modifications to the pop-up toolbar to allow for adding bookmarks and notes and obtaining links in the Glossary and Vocabulary Encoding Scheme section of the Toolkit. Also, a dashed line was added to the display of policy statements in the RDA pages. The new line (shown in the image below) is meant to indicate the end of a policy statement, which should be helpful in those instances where several policy statements are in close proximity.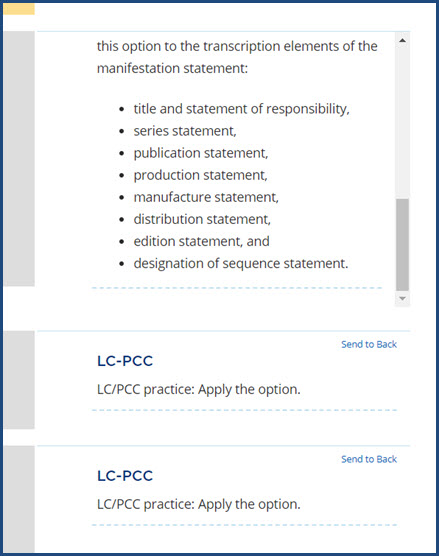 Finally, this release will be the last made to the beta site. In December the beta site will switch over to official RDA status. The current official version of RDA Toolkit will remain accessible to RDA Toolkit subscribers for the foreseeable future. Continue to follow our News and Information blog for further information on this transition.