This full-text print version of RDA offers a snapshot that serves as an offline access point to help solo and part-time catalogers evaluate RDA, as well as to support training and classroom use in any size institution.  An index is included. The online RDA Toolkit includes PDFs, but purchasing the print version offers a convenient, time saving-option.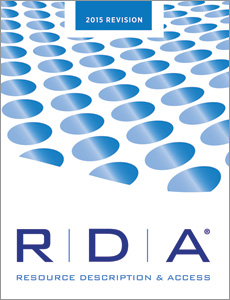 The 2015 RDA Print Revision contains:
A full accumulation of RDA—the revision contains a full set of RDA instructions current through the April 2015 release of the April RDA Update on RDA Toolkit. It replaces the previous version of RDA Print rather than being an update packet to that version. Numerous changes to the text of RDA have been made since the publication of the 2014 Revision. Cataloging practice described by RDA has not altered dramatically due to these changes, but over 70 percent of the pages in RDA Print were affected by the changes, making an RDA Print update packet impracticable.
New binding—the revision differs from past print versions of RDA in that it is a perfect-bound volume rather than a loose-leaf packet requiring a binder. Fast Track and Update changes to RDA have proven to affect a large number of pages in recent years, making the loose-leaf format with update packets impractical. For the immediate future RDA Print will be offered as a perfect-bound volume.
UPDATE: the next revision of the Print RDA is expected to be available in 2019. The next revision will reflect the changes to RDA related to the IFLA-Library Reference Model and to the structural changes related to the RDA Toolkit Restructure and Redesign (3R) Project.
Where to purchase RDA: Resource Description and Access
All customers can subscribe to the online RDA Toolkit at: www.rdatoolkit.org/subscribe.
Customers in the U.S. and Mexico should purchase RDA print items from ALA Editions.
Customers in Canada should purchase RDA print items from the Canadian Federation of Library Associations.
Customers outside the U.S., Canada, and Mexico should purchase RDA print items from Facet Publishing.